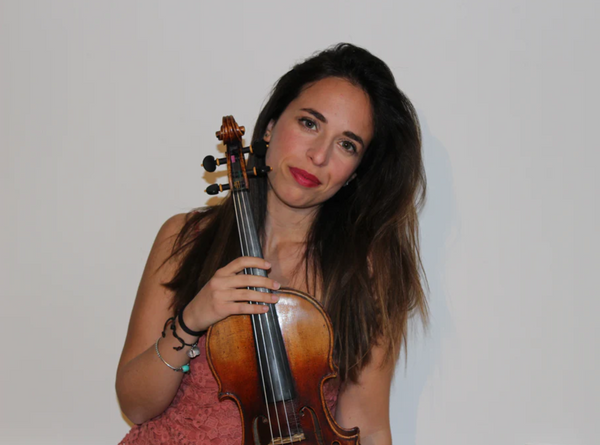 Online / Basel - Martina unterrichtet Violine
Name: Martina

Jahrgang: 1995
Beruf: Geigerin

Musikalische Ausbildung: Bachelor in Turin Conservatory G. Verdi, Master in Music Performance, Hochschule der Künste, Bern

Als Musiklehrperson tätig seit: 2015

Persönliche Infos: First prize winner:Moncalieri Chamber Music Competition, Ducale L.a.b. Chamber Music Competition, Riviera Etrusca Competition, Antonio Salieri Competition, Benedetto Albanese Competition, Mario Benvenuti Vittorio Veneto Competition, A.M.A Calabria Competition, G. Campochiaro Competition, Città di Campobello di Licata Competition, Francesco Pavia Competition (first prize and special prize from italian Ministry), CRT Competition,De Sono Award. ORCHESTRAL EXPERIENCE : Argovia Philharmonic (2.Violin Tutti), Sinfonietta de Lausanne (permanent member), City Light Symphony Orchestra (permanent member), Filarmonica di Milano (permanent member), Basel Sinfonieorchester (Praktikum and Substitute), Bern Symphonieorchester (Praktikum and Substitute), Biel and Solothurn Symhony Orchestra (Praktikum and Substitute), Orchestra de la Comunitat Valenciana Les Arts (Guest)

Lehransatz/Motivation: I'm an italian professional violinist graduated in the Hochschule der Kunste in Bern and a member of Argovia philharmonic, Sinfonietta Lausanne and City Light Symphony Orchestra. I teach children and adults from beginner to advanced level. My classes are for everyone!
I adapt my teaching method to every student's profile, wish and need in order to learn faster and improve violin skills having fun.
We can choose the repertoire together, from classical to modern and popular music.
I have more than 7 years of teaching experience, I speak italian, english and spanish.

Angaben zum Unterricht:
Unterrichtsort: Bei der Lehrperson zu Hause in Basel, beim Schüler zu Hause in Basel oder online

Instrument: Violine

Stilrichtung: Klassik
Niveau: Kinder, Anfänger, Fortgeschrittene, Profis

Form: Einzelunterricht, Gruppenunterricht

Unterrichtsdauer: 30 Minuten, 45 Minuten, 60 Minuten

Bevorzugte Unterrichtszeit: Morgens, Mittags, Nachmittags, Abends, Wochenende

Schülerinstrument verfügbar: Nein
Verifiziert: Ja